What would you like to change about your smile? Do you want it to be whiter? More even? Get rid of those gaps between your teeth?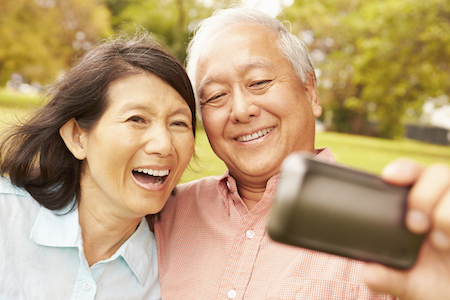 Whatever it is, chances are Dr. Goldston has helped someone with the same problem. Our menu of cosmetic dentistry options can help you smile more confidently in just a few short visits to our Greenville dental office!
Safely Brighten Years of Stain Off Your Smile
Our teeth are very porous. Microscopic pores allow stain particles to soak up into the teeth over time. If we expose them to stain-causing foods and beverages, like coffee, tea, or red wine, we accumulate even more stain than normal. Even if we brush and floss each day, it is physically impossible to brush away the stain particles inside of the porous surface.
Professional teeth whitening treatments use a concentrated gel that oxidizes and lifts away the stain particles. It is more efficient than an over the counter product, giving you more dramatic results in less time.
Dental Bonding
What is dental bonding? Bonding uses tooth colored filling material to re-shape and correct the appearance of problems like:
Chipped Enamel
Gaps Between the Teeth
Uneven Teeth
Exposed Roots
Dr. Goldston shapes the bonding over the conditioned tooth, allowing it to fuse with your enamel. Then once we get the perfect shape, the material is cured into place with a bright light. Afterward, it looks as if your tooth had nothing even done to it - it's just shaped the way that you need it to be.
We use a shade guide to match your bonded area with the rest of the tooth. This helps us create a seamless flow from the restoration to your tooth.
Dental Porcelain Veneers
Porcelain veneers are the ultimate smile makeover restoration. Each of our dental veneers is customized to make your teeth look straighter, whiter, and properly shaped. We recommend veneers for smiles that look:
Uneven
Crooked
Gapped
Discolored or Stained
Worn Down
A veneer is a custom shaded restoration that covers the front of each tooth. As you place them side-by-side, they transform the overall appearance of your smile. If you don't want to wear braces or whiten your teeth - veneers give you fast and dramatic results in just a couple of trips to our office.
Dr. Goldston offers both porcelain and composite dental veneers - giving you options for single or even multiple tooth makeovers. In many cases, we recommend placing several veneers side by side for the best results.
Your Dental Veneers Treatment Plan
After a consultation, we will decide together how you want your new smile to look. Dr. Goldston will then prep your teeth and take an impression, which is sent to our dental lab where your permanent veneers are made. About two weeks later, your porcelain veneers are ready to be bonded into place.
If you opt to have composite veneers, we may be able to complete your treatment in a single appointment. These dental veneers are made by Dr. Goldston here in our office and eliminate the need for additional visits.
Schedule Your Cosmetic Dentistry Consultation With Greenville Family Smiles Today!
Which one is right for you? Our cosmetic dental options can be used alone, together, or in combination with procedures like crowns and fillings. Schedule your smile evaluation to see how we can help you feel more confident about the way you look. Call us today!
Restorative dentistry services with cosmetic solutions can help restore any issue with your smile.